Australia all the fun of an island, a country, and a continent for just the price of one long-distance plane ticket, Travelers have been making the journey to this land down under for over 40,000 years and the attraction is still going strong. Opportunities to swim the Great Barrier Reef, go bushwalking in the Outback, and explore the dense rainforests of Queensland and Tasmania. Australia really offers excitement for everyone. A land this fantastic didn't need to work hard to earn the nickname "Oz."
360 Bar and Dining Dinner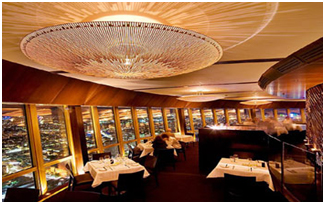 As the highest restaurant in the southern hemisphere (88 storeys or 305 metres above sea level), you will enjoy Sydney's best panoramic views from a unique rotating floor system, stretching from the Blue Mountains to Sydney harbour. Your menu will comprise of a set of entree, a selection of one main course and a set dessert elaborated by an award winning culinary team. The menu offers a modern Australian cuisine with French influences. 360 is a venue that locals are proud of and which travellers must experience!
Blue Mountains and the Hunter with Free City Tour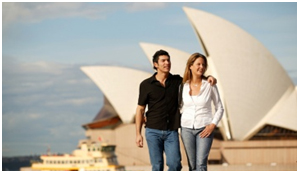 Enjoy Sydney at its best with this 3-day tour package, which includes a FREE City tour. On day 1 take a morning tour visiting all the main attractions & highlights of inner city Sydney such as the Opera House & Bondi Beach. Day 2 on a full day tour to the spectacular Blue Mountains where you can see the wonder of these mountain ranges including the famous Three Sisters rock formation. Also visit a local wildlife park and feed the kangaroos, have your photo taken with koalas and experience close-up encounters with other native Australian animals. On day 3 take a tour of the world acclaimed Hunter Valley wine growing region, a few hours north of Sydney. Visit the range of attractions of this area and enjoy inspections & wine tasting at some of the best wineries of the region. A gourmet lunch at one of the wineries is included in the tour.
Madame Tussauds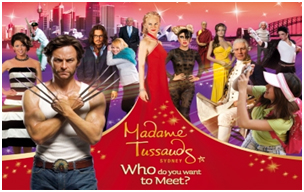 Step into the glitz and glamour of the thirteenth Madame Tussauds attraction opened worldwide and rub shoulders with over 70 fascinating wax figures including some of Australia's most loved Aussie personalities. The confirmed line up to date includes Brangelina, Mark Webber, Guy Pearce, Dannii Minogue, Johnny Depp, Nicole Kidman, Lady Gaga, Ray Meagher, Hugh Jackson and Amanda Keller.
Sydney Attractions Pass and Monorail Day Pass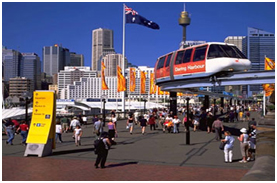 The best way to discover the city at your own leisure. This pass allows you to visit SEA LIFE Sydney Aquarium, WILD LIFE Sydney and Sydney Tower Eye, plus unlimited travel for a day on the Sydney Monorail. No where else in the world will you find a larger collection of Australian aquatic life, with over 11,500 animals. Open: Daily 9.00am - 08.00pm for SEA LIFE Sydney Aquarium and WILD LIFE Sydney opening time are daily from 9.00am - 5.00pm. From underwater depths to soaring heights, see fantastic views from Sydney Tower Eye, the tallest building in Sydney. Open: Daily 9.00am - 10.30pm. From here continue your travels by linking the Monorail. The Monorail glides over the busy streets and links the excitement of Darling Harbour's activities, shopping, world square and city centre.
Sydney Harbour Bridge Day Climb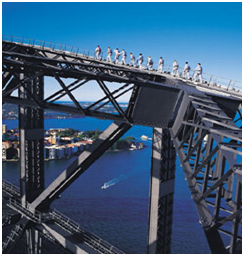 Our team will take you all the way to the top of the bridge, some 130 metres above sea level. Feel the thrill walking over the catwalk to the pylon before setting out across the arch to the summit. Before you lies a stunning 360 degrees view of one of the greatest harbours in the world.
Sydney Tower Eye with 4D Cinema Experience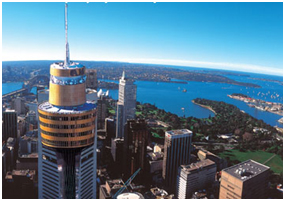 The Sydney Tower Eye experience takes you a staggering 250 metres above Sydney, commanding breathtaking views of one of the most beautiful cities in the world, including the Harbour Bridge and Opera House. From the beaches to the mountains, you'll be amazed at what you can see from the highest point in town.
Eureka Skydeck 88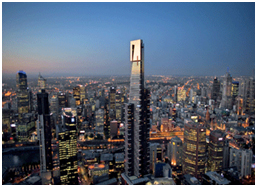 Experience Melbourne's newest tourist attraction, situated atop the striking Eureka Tower, currently the world's tallest apartment building. Boasting the highest public vantage point in the Southern Hemisphere, Eureka Skydeck 88 offers unparalleled views of Melbourne and its surrounding regions. Two dedicated lifts propel you to Level 88 in under 40 seconds or a breathtaking nine metres per second. Step out on the 88th floor and take in the magnificent 360 degree views from the floor to ceiling window. It's a perfect place to start your exploration of Melbourne and Victoria. Skydeck 88 is the only observation deck in the world that can thrill you with 'The Edge', a glass cube which projects 3 metres out of the building with you in it, suspended almost 300 metres above the ground!
Melbourne Balloon Flight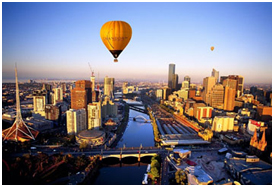 A sunrise balloon flight over Melbourne is a truly remarkable experience. There are few major cities in the world that can be traversed by hot air balloon and there's certainly no better way to take in Australia's second largest city. In the early morning light you will drift by the array of parks and gardens that make Melbourne the world's most liveable city. As the city comes to life you will look down on some of the cities iconic sporting venues like the MCG, Melbourne Park and Albert Park racetrack. If you are looking for a romantic soft adventure that gives you a peek at city life from a totally different angle then ballooning over Melbourne is a must.
Sports Lovers Tour plus Foster's Australia Brewery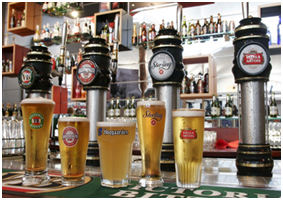 On this tour you will visit the venues that play host to some of Australia's premier sporting events. First stop is Flemington Racecourse, the home of the Melbourne Cup - the race that stops the nation. Next you will pass by the Commonwealth Games Athletes Village, drive around Albert Park, on the Melbourne Grand Prix Circuit alongside Melbourne's Sports and Aquatic Centre. You will then have the choice of touring the Melbourne Cricket Ground (MCG) or the Rod Laver Arena. You will then enjoy lunch overlooking the Etihad Stadium arena (Formerly known as Telstra Dome) followed by a tour of The Foster's Australian Brewery, famous for labels Fosters, Victoria Bitter, Carlton Draught and Crown Lager. This tour offers you a unique opportunity to experience the past, present and future of beer and brewing in Australia through interactive displays and a guided tour of Australia's largest brewery. Sampling is available.
Under Construction...
ROMANTIC AUSTRALIA : 9 Nights /10 Days
Day 1: Arrive Gold Coast
Welcome to Australia! Arrive Brisbane International Airport and transfer to Gold Coast, where you will check in to your hotel. The evening is free to enjoy the beautiful beaches of Gold Coast. Overnight in Gold Coast.
Day 2: Gold Coast
After breakfast, we take you to visit Movie World. Movie World' is also called 'Hollywood on the Gold Coast'. It is a fabulous extension of a fully operational movie studio. From out of this world and beyond the darkness enjoy Batwing Spaceshot, the latest thrill ride attraction. Scooby-Doo Spooky Coaster is a $13 million indoor rollercoaster ride inspired by the Scooby-Doo feature film. Overnight in Gold Coast.
Day 3: Gold Coast
Today, Australia's favourite family theme park, Dreamworld spans 30 hectares and is filled with a variety of rides, shows and attractions. So many worlds in one, Dreamworld is home to The Big 6 Thrill Rides including the Tower of Terror 2 - one of the world's tallest and fastest thrill ride, the Giant Drop with a freefall from 38 storeys or 'The Claw' where you'll be propelled 9 storeys high, swinging up to 64kmh while spinning 360 degrees for a 90 second adrenalin rush Overnight in Gold Coast.
Day 4: Gold Coast - Hamilton
Morning, set off for your flight to Hamilton. Arrive Hamilton and courtsey SIC transfer to your hotel. Spend the evening exploring the area around your hotel. Overnight in Hamilton.
Day 5: Hamilton
After Breakfast, depart for a full day tour on Full day Great Barrier Reef Cruise. Experience the beautiful Corals and reefs. Lunch is included. Later in evening return back to your resort. Overnight in Hamilton
Day 6: Hamilton
After Breakfast, depart for a full day tour on Full day Whitehaven Beach Cruise. Experience the beautiful white beach. Lunch is included. Later in evening return back to your resort. Overnight in Hamilton
Day 7: Sydney
Morning, set off for your flight to Sydney. Arrive Sydney and take SIC transfer to your hotel. Spend the evening exploring the area around your hotel. Overnight in Sydney.
Day 8: Sydney
After a buffet breakfast at your hotel, we take you on a city tour of Sydney. We first take you to unique Opera House from outside. Your next stops are the Harbour Bridge, the Rocks, Darling Harbour and the Sydney Tower, where you can also experience a Sky Walk, Sydney's highest open-air attraction. Visit the Sydney Aquarium and learn about the diversity of Australian aquatic life. The 150 metre long clear tunnel offers a fantastic view of the fish, sharks and other creatures of the deep seas. (No Hotel drop off). Enjoy Sydney at your own pace with Sydney monorail pass. In the evening, enjoy Sydney Showboat cruise. This showboat is an authentic replica of the paddle wheelers that cruised the Sydney Harbour in the 1800s. From here, you have a very different, ever-changing view of the city and the harbour. Admire the spectacular Opera House and the Harbour Bridge in the moonlight. Savor a delicious Indian dinner on board with an entertaining cabaret show by the Sydney Show Boat Follies. (No transfers)( Standard package)(No operations on Wed and Sun). Overnight in Sydney.
Day 9: Sydney
MAfter breakfast, we take you to full day Blue Mountain Tour with Wildlife Park. Enjoy a light lunch. Experience fresh mountain air as you rise above Sydney and enter the spectacular Blue Mountains region. The Blue Mountains is perfect for exploring the best that nature has to offer. Bushwalking, galleries, fine dining, shopping and numerous attractions. Visit the Three Sisters, the famous rock formation and one of the Blue Mountains' most famous sights, towering above the Jamison Valley. 2 way unitride is included . 'Fun!' 'Awesome!' 'Unbelievable!' 'Magical!' Later, return to your hotel in Sydney. Overnight in Sydney.
Day 10: Fly out
After an early breakfast, complete your packing, check out of the hotel and set off to Sydney airport for your onward flight or back home. End of Services!!