A melting pot of several cultures. Malaysia is where you can experience every flavor that the Asian subcontinent has to offer. With malls that offer hours of happy diversion, delicious food to tempt every palate and some of the most gorgeous beaches in the world.
Malaysia's diversity makes it the prefect getaway. Langkawi's ninety-nie islands are home to several local legends, pristine beaches and natural marvels. Pangkor Island and Kota Kinabalu are two increasingly popular destinations for the pleasure seeker.
And the several smaller towns showcase the country's art, crafts and cultural heritage. Your holiday here will leave you richer in experience.
City Tour: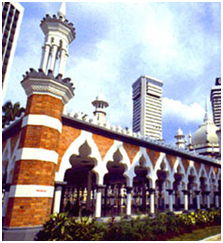 A must for first time visitors to Kuala Lumpur. An interesting tour which unveils the beauty and charm of the old and new Kuala Lumpur - Garden City of Lights. See the contrast of the magnificent skyscrapers and the buildings of the colonial days. Highlights of the tour include; Petronas Twin Towers (photo stop), OE jewellery showroom, King's Palace (photo stop), National Monument, National Museum (excludes entrance fee), National Mosque (photo stop) and the Sultan Abdul Samad Building
Under Construction...
Malaysia - 3N/4D
Day 1
Arrive in Kuala Lumpur, where our representative will meet you at the airport and escort you to your hotel. In the evening, you may choose to dine at the city's revolving restaurant. Overnight in Kuala Lumpur.
Day 2
This morning, head out to explore the city. You will see the Petronas twin towers, the King's Palace, the National Monument, the National Museum, the National Mosque and Sultan Abdul Samad building. The afternoon is free for you to explore the city on your own. Overnight in Kuala Lumpur.
Day 3
Take a leisurely drive to Genting Highlands, a resort city in the mountains. Relax at the outdoor theme park at the complex amusement centre, where you can take a boat ride, a mini-train ride, and more. Overnight in Genting Highlands.
Day 4
Set off to Kuala Lumpur International airport to catch your flight home, or extend your holiday to another of Malaysia's gorgeous holiday spots.
Under Construction...