The state is mostly covered by the low Shivalik hill range towards the south and the dramatically high trans-Himalayan ranges as you go north. Thus you can proceed from hill-town Dharamsala in the south, at 1700m, to Lahaul-and-Spiti, the northernmost district, at 6500m. This geography and the resultant cool-to-snowy climate, define Himachal's tourist attractions as well; in fact, tourism and apple-growing run the economy of the state. Sutlej, Beas, Ravi, and Parbati are the main rivers.
Under Construction...
Under Construction...
A] 7 DAY TRIP TO SPLENDID HIMACHAL PRADESH
Nestled in the north western part of the Himalayas, Himachal Pradesh – also called "Devbhoomi" is the most picturesque hill state of India and is also one the most visited tourists' destinations in India. Celebrated for its enormous and panoramic landscapes, this travelers ecstasy is blessed with supercilious snow peaks, deep canyons, great rivers, entrancing mountain lakes, ancient temples and wonderful monasteries steeped in time. If you wish to spend a week or so in this beautiful part of India, below is our suggestion on how you can plan your itinerary.
Getting to Himachal:
There are five main zones that lure maximum visitors to Himachal – Shimla, Kullu and Manali, Dalhousie and Chamba, Kangra- Dharamshala- Palampur and Paonta-Nahan. From these routes, one can reconnoiter offbeat destinations of Himachal
Himachal Pradesh has three major airports at Gaggal, Bhuntar and Jubbarhatti which are well connected to Delhi and Chandigarh via regular flights.
There are also excellent Volvo coaches that leave from Chandigarh every day to various places in Himachal like Shimla and Kullu-Manali.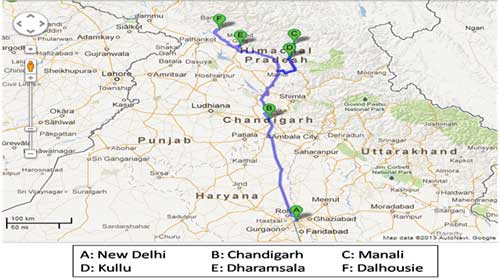 Day 1&2- Manali: Ruled by snow
A quaint hill station enfolded by snowy mountains and dense pinewood with the winding Beas River, Manali is famous for its appealing beauty. It is well accessible by regular flights from Delhi and Shimla. The only airport of Manali is Bhuntar which has close proximity with the place. You can plan your stay at various hill resorts here which are wedged between the imposing peaks of Pir Panjal and Dhauladhar. These stunning resorts are also puffe up with flamboyant festivals and fairs organized most of the evenings to spark your stay.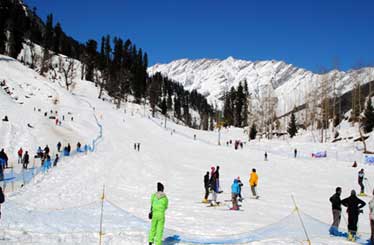 Snow At Manali
Besides the majesty of its natural panorama, Manali offers a plenty of adventure activities. You can indulge in mountaineering, trekking and skiing, to name a few. The Beas Kund area is one of the most preferred trekking tracks here. Explore the hilly route of the adjacent mountains and you would truly relish this experience. Manali is also one of the few places in India where adventure sports like paragliding and skiing are supported.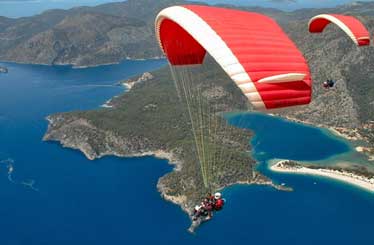 Paragliding at Manali
Visit Kullu from Manali:
If you have an extended time at Manali, then plan a short trip to nearby Kullu, about 1 hour drive from Manali. "Kullu" as the name stands for is the "end of the habitable world". This tiny hill station blossoms up especially in the month of October during the famous Dussehra festival. Visit various temples like the Raghunathji and Bijli Mahadev Mandir or simply enjoy the panoramic beauty of Kullu and Parvati valley. Try the unique "Yak Safari" here and on way back shop some popular locally woven Kullu wool shawls, blankets and slippers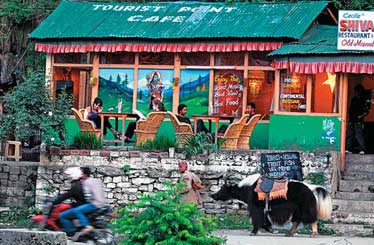 Beautiful Kullu
Day 3&4 – Dharamsala: Divine city where the heads bow
Himachal Pradesh is dotted with many holy sites that are visited by people of many faiths. Dharamshala is one of the most visited holy destinations as it is the abode of the holy Dalai Lama. The distance between Manali and Dharamshala is about 215kms and it takes about 6-7 hours by road. The best way to reach Dharamsala is by road – either take a local or tourist bus or drive a car; make sure you start during early hours of the day so that you can enjoy the scenic beauty of the Kangra Valley.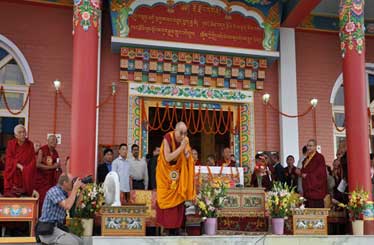 Your Majesty the Dalai Lama at Dharamsala
On reaching Dharamsala, visit the Buddhist Vihars which present great cultural values and Tibetan architectural skills. Also visit the Kangra Art Museum that depicts the heritage past of Dharamshala and its sanctity. Dharamshala has a vibrant environment with dense green forest. Blessed with many clear and unpolluted streams it is an ideal retreat if you are a nature lover. Take a walk along these streams and enjoy the beauty of this place.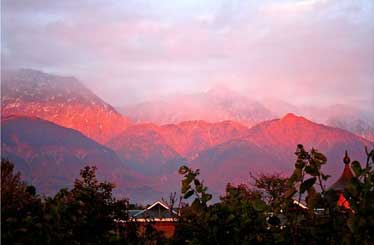 Sunset at Dharamsala
Late in the evening, consider going to Kotwali Bazaar, a perfect place for shopping where you can get to know the taste of entire Dharamshala community. Try some tibetian road side momos or attend some classes with the monk
Visit McLeodGanj from Dharamsala:
Next day, trek up about 8-10km to reach the headquarters of Tibetian government – beautiful McleodGanj. This place is dotted with budget hotels, trekking operators, internet cafés, small restaurants and wall-to-wall shops selling Tibetan souvenirs. McLeodGanj is a major center for the study of Buddhism and Tibetan culture. Visit the ancient temples, monasteries and shop Buddhist handicrafts, garments and thangkas.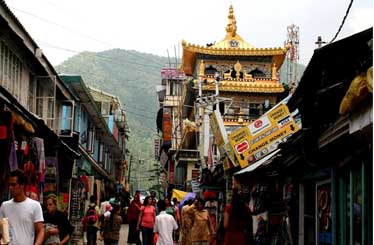 McLeodganj
Day 5&6- Dalhousie: The colonial charm
To enjoy the colonial charm of Himachal Pradesh visit Dalhousie which this only 4 hours drive from Dharamshala by road. Opulent in colonial architecture, the town preserves some of the most beautiful churches and historical buildings. Do not miss on the magnificent view of the Chamba Valley and the mighty Dhauladhar range with its breathtaking snow-covered peaks filling an entire horizon.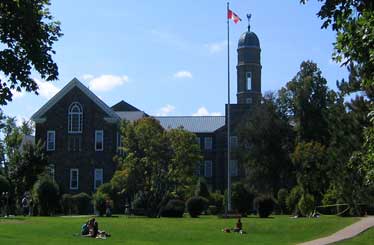 Dalhousie
Visit the St. John's Church and St. Francis church to witness the colonial beauty of this place. There is a famous bird's sanctuary called Kalatope which offers a fine view of the countryside.
Visit Khajjiar from Dalhousie:
About 24km up from Dalhousie lies a beautiful plateau called "Khajjiar" which is also reffered as "Mini Switzerland". It is easy to reach Khajjiar in 2 hours drive in private or rented vehicle. Khajjiar has a backdrop of green meadows and dense forests of pines and deodars. Catch a game of golf in the nine-hole golf course here, take a walk by the Khajjiar lake or hop on for a horse ride in the green meadows. The place is a true blessing to spend as much time as you have.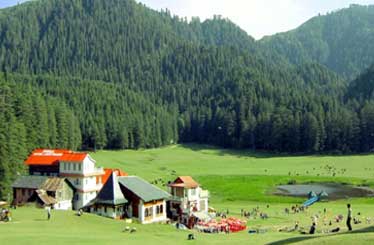 Khajjiar – the "Mini Switzerland of India"
Depending on your preferences for travel time and activities at different places, extend or cut-short your time to enjoy to the fullest. But we can surely say that if you want to see the beauty of India, then a visit to Himachal Pradesh is a must.
B] AN UNFORGETTABLE SHORT TRIP TO SHIMLA
Himachal Pradesh prevalently known as Devbhumi– "Land of the Gods" is one of the most beautiful hill stations i India. It is vested on the north-west region of the western Himalayas. Its sheer topographic diversity and breathtaking pristine natural beauty makes it one of the most preferred hills stations in India. From vast swathes of high altitude Trans-Himalayan desert to impenetrable green deodar forests, from apple orchards to cultivated terraces, from snowcapped high Himalayan mountains to snow served lakes and spouting rivers, everything about Himachal is just beautiful.
If you are in or around the beautiful city of Chandigarh, then Shimla is the nearest entry gate to Himachal and 2-3 days here will leave you with precious memories. Shimla is also a popular honeymoon destination and the nearest place to Chandigarh, where you can enjoy Ice skating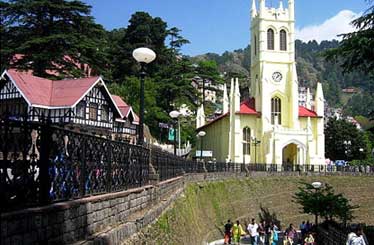 Beautiful Shimla
Below is a short itinerary for you to spend some great moments in this beautiful hilly region.
Getting to Shimla
The nearest airport to Shimla is Chandigarh (IXC) which has great connectivity to all the major cities of India. From Chandigarh, you can reach Shimla by either Volvo bus, by car or by train. Excellent Volvo coaches depart from Chandigarh every day that take you to Shimla in 24 hours. You can also easily reach Shimla in 7-8 hours by car as the roads are excellent.
But the best way to reach Shimla is the Kalka-Shimla toy train. Shimla is connected by a broad gauge line up to Kalka. Take a short taxi ride to Kalka, and then board this popular Kalka-Shimla toy train. The journey between Kalka to Shimla takes about 6 hours and it is one of the best ways you can explore Himachal's landscapes.
Day-1
With all its niceties, history seems to have been the sealant for every brick and stone that has built Shimla. It can be well termed as "The Summer Capital of India", because people normally visit Shimla during summer time to kill the heat and enjoy the mountains.
If you are fond of walking and wish to witness the beauty of nature to the maximum then take a walk in the early hours of the day with your partner. You can enjoy some hot tea or coffee on your way. This will help you unfold that beauty of Shimla which you will miss if you are in a vehicle.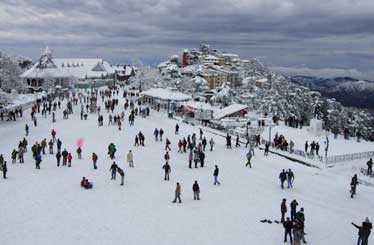 Snowcapped mountains of Shimla
The area around the Institute of Advanced Study has several walks. Enjoy these walks and combine it with a visit to the State Museum and expand it towards Kamna Devi.
After a nice walk, and a visit to the museum, enjoy a hot meal. The best part about Shimla is being a tourist destination all cuisines are available here.
Take your partner out for some shopping in the evening hours. You can find traditional bazaars as well as malls in Shimla. We would recommend you to enjoy local shopping for traditional products and gifts. Lower bazaar that runs parallel to the mall has aromas of a typical Indian Market. Trinkets that can be bought here are silver jewelry, woolen ware, handmade footwear, carpets, shawls and tweeds.
Day-2
After enjoying the local view and markets of Shimla reserve the next day to get captivated by its snow capped mountains and beautiful landscapes. Some routes offer a great variety of Shimla trees, shrubs, windflower and ferns. Visit the "Summer Hill" point which is a glen and a narrow forest trail that will leave you spellbound by its beauty. It is a spot on the way of Shimla to Kalka, 5kms from the Ridge of Shimla.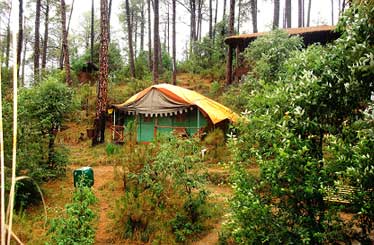 Summer Hill – Shimla
The Summer Hill of Shimla is also known as the 'Potters Hill' as the potters used to visit the hill to gather clay. Relish a joyful ride on the horses back through the dense forest region of Cedar and Oak.
Day-3
The major attraction if you are at any place covered with snow is ice-skating. If you plan to visit Shimla during the winter season, this is one activity that you should not miss. To celebrate the spirit of snow sports, an ice-skating carnival is organized every year in December. It's not just the sport but also other attractions like fancy dress competition by kids, figure skating, couple skating and short track speed skating, etc. that makes the entire carnival lively, energetic and peppy. An entire day can be spent easily at this carnival with ample amount of fun, yummy food, and oodles of enjoyment.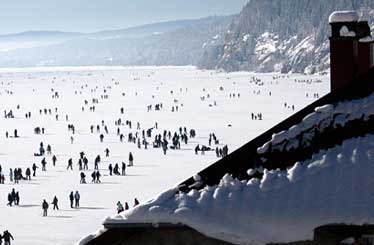 Ice-skating in Shimla
Though 2-3 days are just not enough to explore the beauty of Himachal, but a short stint at Shimla gives you a glimpse of life in hills. When time allows, take out a week or two to experience how different and peaceful life can be. Places like Kangra, Palampur, Kullu present a different way of living in front of us. Checkout our next post to plan your itinerary for the same.
Under Construction...