Eighteen thousand islands under a balmy tropical sun. Dense jungles where leopards, sun bears and orangutans roam, where clearings reveal carved stone stupas whose spires reach entreatingly towards the sky.
Snow-rimmed volcanoes cradling icy turquoise lakes. Rows of tea bushes in near military precision, marching down the hill slopes. Indonesia is a country that has managed to avoid being overrun by tourists. Yet for all its lush natural beauty, its cities offer every decadent pleasure imaginable.
While Jakarta and Bali are popular halts for travelers, smaller towns like Yogyakarta, Semarang and Bunaken have their own unique charm. As the world's largest archipelago, the country has more than its fair share of dazzlingly white beaches and secluded azure lagoons.
Bali Adventure White Water Rafting: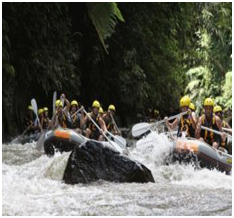 Grab your oars and get ready to rage with this exhilarating rafting adventure on the spectacular Ayung River. Whether you are 5 or 75, a natural or a novice, our white water rafting in Bali ride is safe, fun and a breathtaking experience to be enjoyed by the whole family with Bali's premier tours company on the island's most scenic river.
Bali Adventure Rafting and Elephant Safari Ride: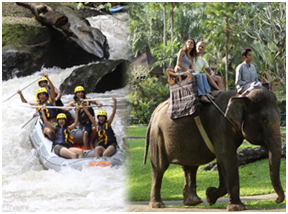 Bali's most popular and exciting tour combination puts you firstly on our famous 'White Water Rafting' followed by a visit to the Elephant Safari Park with a 35 minute Elephant Safari Ride through the cool forest of taro. A Buffet Lunch is served after rafting at our Rafting Restaurant, followed by a short transfer to the Elephant Safari Park.
Quicksilver Nusa Penida Island Day Cruise: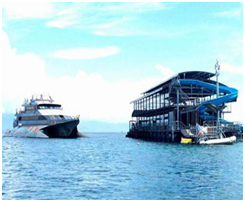 Venture into paradise each day with Quicksilver Cruises to the picturesque island of Nusa Penida and tie up alongside a floating pontoon for the day. The island has superb gardens and marine life and is an ideal base for enjoying watersports, with unlimited banana boat rides and parasailing available (optional). Take a guided snorkeling tour, with qualified snorkeling instructors on hand to help you, or sample the experience of scuba diving (optional). If you don't want to get your feet wet, view the incredible coral formations from the comfort of our Semi Submersible vessel. Catch the boat over to the island and visit the village of Toyapakeh. Here, you can observe turtles, traditional cockfighting, sample traditional Balinese dress and enjoy a refreshing coconut drink. A sumptuous tropical buffet lunch is served in the air-conditioned salon of the Quicksilver, or you can dine on the floating pontoon.
Under Construction...
Under Construction...