Bird parks, Skyscrapers that kiss the cloud. Big-brand shopping. An intriguing blend of Asian and western cultures. An endless stream of buzzing activities.
People whose generosity stems straight from the heart. Singapore is a happy blend of constrasts and no matter how many times you visit, you will always find something new to enchante you. The city's ever changing face captures the very essence of modernity.
Afternoon till Sunset at Sentosa: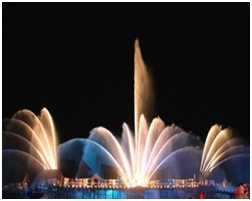 Be transported to Sentosa, Asia's premier leisure destination by a scenic Cable Car Ride. On the island, visit the Dolphin Lagoon, where you can watch adorable pink dolphins perform their natural antics such as spy-hop, tail-flapping and vocalisation. At the Underwater World, you will be taken on a voyage to the bottom of the sea'. Its 80-metre transparent acrylic tunnel allows you to view over 2,500 sea creatures in close proximity. At Images Of Singapore, you'll embark on a journey to experience the colourful culture and vibrant heritage of Singapore, re-told through life-size figures, animatronics and special effects. The tour ends with a visit to Songs Of The Sea, Singapore's multi-sensory extravaganza , to watch a world-class water show comprising dramatic effects, water jets, lasers, bursts of fire and foot-tapping music set in the sea. Be transported into the enchanted world where mystical sea creatures, a dashing young hero, beautiful princess and all things magical come to life before your very eyes.
Jurong Bird Park: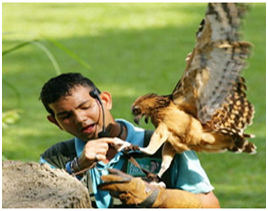 Home to over 9,000 birds of more than 600 species, Jurong Bird Park spans 20 hectares of lush greenery within Singapores model industry estate. Take a ride on the Panorail for a panoramic view of the Park and into a tropical world of jungle mists at the Waterfall Aviary. Enjoy the spectacular Penguin Exhibit and All-Star Bird Show at the Pool Amphitheatre. The Bird parks exhibits and aviaries are specially designed to closely resemble the natural habitats of the birds.
Night Safari Ticket with Tram Ride: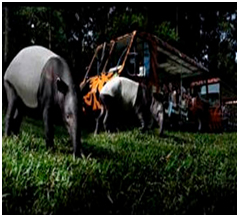 Hop on a tram ride for a 40-minute long journey into seven geographical regions, from the Himalayan foothills to the jungles of Southeast Asia. This tram ride allows you to come up close and personal to more than 2500 nocturnal creatures while enjoying a live commentary. Explore the mystery of the night on your own with four walking trails that promise sightings of animals such as the elusive pangolin and the shy barking deer in their naturalistic habitats. The popular Creatures of the Night show showcases the unique abilities of nocturnal animals such as the binturong and fishing cat. Other attractions include the talented Thumbuakar performers, who will enthrall with their breathtaking fire-breathing stunts.
Singapore Flyer: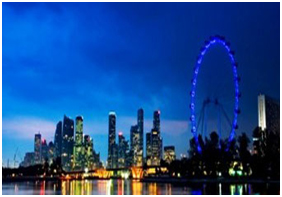 The Singapore Flyer, a giant observation wheel that features brilliant engineering breakthroughs, is a world apart from the traditional ferris wheel and is set to be Asia's most visible iconic visitor attraction. Standing at a stunning 165m from the ground, the Flyer offers you breathtaking, panoramic views of Singapore and beyond. The Singapore Flyer will transform the visual landscape of the surrounding Marina Bay area.
Singapore City and Sentosa: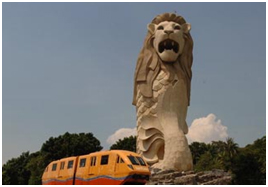 This tour begins with a visit to the Raffles Landing Site. After this, enjoy a delightful Singapore River Cruise from Clarke Quay to Merlion Park. Take a break for shopping and after that visit the Suntec Fountain of Wealth. The next place is the Raffles Hotel Museum. This is the most historical hotel in Singapore. Next proceed for a delicious Tim Sum lunch. After lunch, proceed to Resort World Sentosa. You will walk around at Resort World Sentosa before proceed to Merlion Tower and Images of Singapore.
Under Construction...
Singapore - 5N/6D
Day 1
Arrive in Singapore's Changi Airport, where our local representative will escort you to your hotel. The rest of the day has been kept free for you to explore the area around your hotel or do a little shopping on your own. Overnight in Singapore.
Day 2
Set off for a city tour of Singapore, where you will visit Parliament House, Supreme Court, City Hall, Merlion Park and the Botanical Gardens. Overnight in Singapore.
Day 3
Spend the day at Singapore's newest attraction – Universal Studios, South East Asia's first movie theme park. Here, you can drop in at Far Far Away Land with Shrek or discover the lost world of dinosaurs or even the jungles of Madagascar. Overnight in Singapore.
Day 4
Today, you will visit Sentosa Island, where you will take a ride on the cable car, visit Underwater World, and watch the Songs of the Sea show. Overnight in Sentosa, Singapore.
Day 5
Set off for a day of beachside fun. Head to one of Sentosa's several beaches, and spend the day in a state of utter relaxation. Overnight in Sentosa, Singapore.
Day 6
Complete your packing and set off to Singapore Airport to catch your flight home.
Under Construction...